Explore winter: Ladurns ski area, toboggan runs, and more
In winter, there's so much to explore around Gudrun. Today, carving in the Ladurns ski area, tomorrow, skiing in Val Gardena/Gröden, the day after tomorrow, winter hiking in Val di Vizze/Pfitschtal. And there are also thousands of possibilities for tobogganing. Gudrun is a wonderful place to relax and unwind but the numerous possibilities in the surrounding area will lure you out the door again and again. And you'll find it hard to resist, we bet!
Ladurns ski area on our doorstep, others close by
Out in the snow, right into a skiing and snowboarding paradise! Gudrun has three ski areas up our sleeves: the Ladurns ski area, the Monte Cavallo/Rosskopf ski area in Sterzing, and the Racines-Giovo/Ratschings-Jaufen ski area. A total of 63km of pistes await you around your hotel in Gossensass. Among them are slopes as perfectly groomed as a white carpet, natural off-piste snow slopes, and wilder pistes – the right thing for everyone. And what's even better? All three ski areas can be visited with just one ski pass.
Ladurns ski area: family-friendly
Families really feel at home in the Ladurns ski area. A fast, new 10-person gondola lift with a middle station will take you from the valley into the ski area, with a ski lift for children and beginners at the middle station. Snow tots from the age of two can work off their energy in Children's Club "Fichti", a 5,000m² children's winter park. At the ski school, which has won several gold awards, the ski instructors know exactly how beginners should be introduced to winter sports. Experts practise their turns on the panoramic piste or carve down the forest valley descent in the skiing area in Ladurns. Another highlight is red slope no. 7, named after the former ski racer Patrick Staudacher, who was born in Sterzing and became world champion in the Super-G in 2007. A total of 18 kilometres of pistes are available to you in the Ladurns ski area. And the cherry on top? The ski bus, which leaves every two minutes from our front door, taking you to the valley station in just five minutes.
For all those who prefer to spend time off the slopes: The almost seven-kilometre-long toboggan run is fun for everyone. The Ladurns ski area is also ideal for winter hiking and ski touring. And then after all the excitement, why not stop off and join us at Gudrun's Pfeifer Huisele!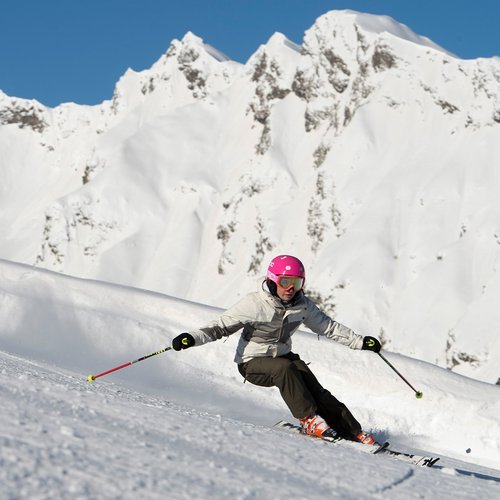 Monte Cavallo/Rosskopf ski area: sunny
From medieval alleys to modern ski slopes in only five minutes? That's only possible in the Monte Cavallo/Rosskopf ski area in Sterzing. From the picturesque shopping streets, you can walk to the valley station of the Monte Cavallo/Rosskopf cable car in just five minutes (by the way, it's also a five-minute drive from Gudrun). In the Monte Cavallo/Rosskopf ski area, 20 kilometres of pistes await you for pure skiing and snowboarding fun. Or would you rather explore the idyllic winter landscape on snowshoes or ski tours? For families with children, we recommend the toboggan run on Monte Cavallo/Rosskopf, which is the longest artificially snowed toboggan run in Italy with a distance of 10 kilometres.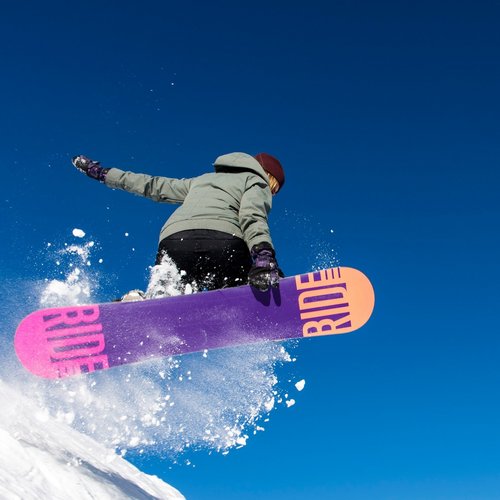 Racines-Giovo/Ratschings-Jaufen ski area: versatile
At the Racines-Giovo/Ratschings-Jaufen ski area (24 minutes by car from Gudrun), discerning skiers carve over the 25 kilometres of perfectly groomed pistes. Ski tots romp in the children's area, while beginners to pros practise their jumps in the fun park. The north-facing slopes are particularly popular, which entice skiers with good snow conditions right up until spring. But it's not just skiers and snowboarders who get their money's worth here. Above the mountain station, an idyllic forest opens up, inviting you to go on winter hikes. For families, on the other hand, the toboggan run is definitely the place to be. Cross-country skiers will find a challenge on the Monte Piatto/Platschjoch high-altitude track.
3 ski areas, 1 ski pass, 60 kilometres of pistes – where can you find that? Around Gudrun, of course! All three ski areas can be reached in no time by ski bus, which departs two minutes away from our hotel. What does that mean for you? Hop on the ski bus at Gudrun, enjoy the 5-minute ride, and get off right at the valley station of the Ladurns ski area – it doesn't get any better than that!
What else awaits you in winter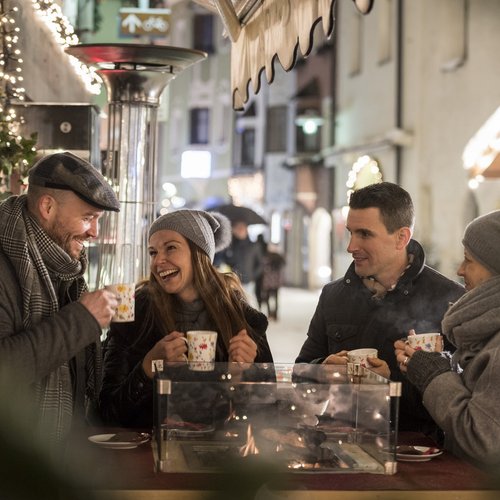 Sterzing Christmas market
There is a special spirit in Sterzing during Advent. The medieval town shines in unique splendour and delicacies such as punch and mulled wine await you!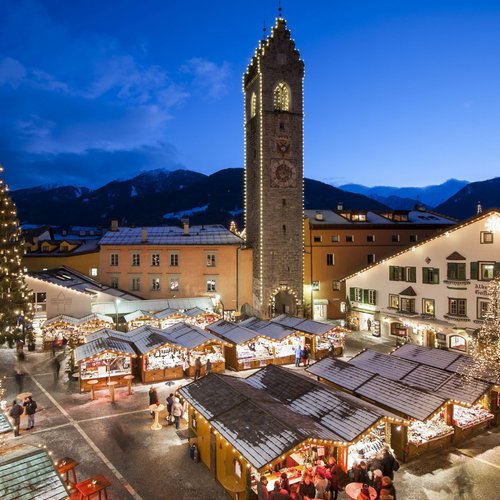 Ice skating under the Torre delle Dodici/Zwölferturm
In the middle of the old town of Sterzing, an ice-skating rink is set up for several weeks in winter, where you can do pirouettes, play ice hockey, or try ice curling.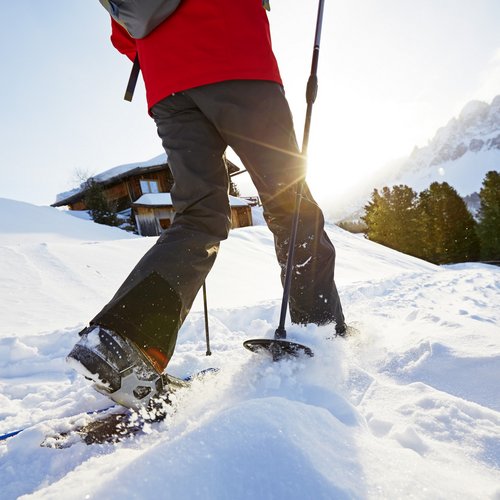 A beautiful and sustainable alternative to skiing is gentle snowshoe hiking. How about the tour from Gossensass to the Hühnerspiel hut for example?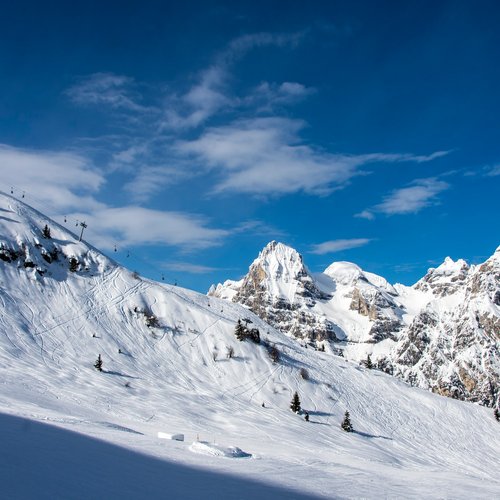 The region around Gossensass is particularly suitable for paragliding due to its thermals and the many slopes. In summer and winter, tandem flights are offered for beginners and advanced paragliders.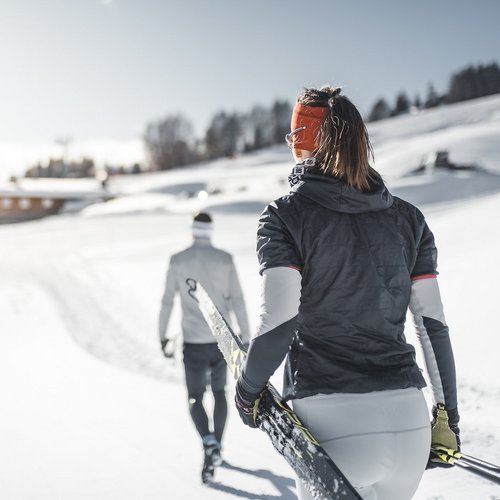 Gudrun's insider tip for cross-country skiers is the snowy Val di Vizze/Pfitschtal high valley. There are 28 kilometres of perfectly groomed cross-country trails available. And even without sports, the valley, which is not yet well-known by tourists, is worth a visit!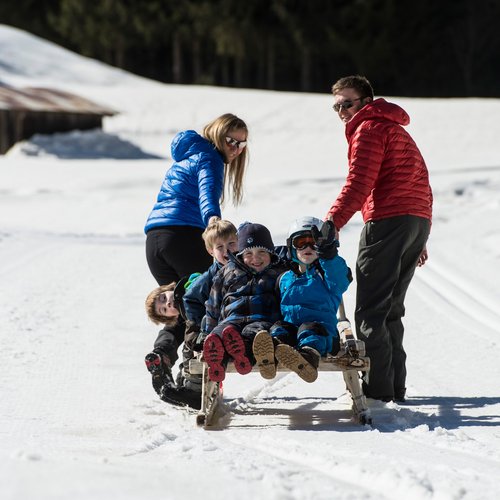 Tobogganing means fun on the slopes for the whole family. No matter whether you ascend on foot or with the mountain cable car – in Gossensass and the surrounding area, there are numerous natural and artificial toboggan runs waiting for you. Hop on your toboggan – ready, set, go!
Gudrun's secret winter tips:
Alpe di Siusi/Seiser Alm and Val Gardena/Gröden ski area incl. Sellaronda
Together with Val Gardena/Gröden, Alpe di Siusi/Seiser Alm forms a ski region with 175 kilometres of pistes and 80 cable cars, making it the largest ski area in the Dolomites! And the highlight of it all? The continuous day tour around the Sella massif, Sellaronda. Here you don't have to ski any slope twice, so you'll have pure skiing fun that you can reach in about an hour from Gudrun. At Gudrun, you'll stay in top comfort for the best price and you'll still be able to enjoy the most popular skiing resorts.
Plan de Corones/Kronplatz ski resort
How about a day trip to South Tyrol's no. 1 ski resort, Plan de Corones/Kronplatz? 119 kilometres of pistes and 32 modern lifts await you here. The pistes offer everything beginners, occasional skiers, and ski pros could wish for. Long valley descents for wide, leisurely turns as well as the Black Five (the five black runs) all beckon you. From Gudrun, you can reach the valley station of the ski area in just one hour.
Winter hiking and tobogganing – von St. Anton in Fleres/Pflersch to Malga Allriss/Allriss Alm
Hike for an hour, stop at Malga Allriss/Allriss Alm, and then race down the mountain. Sounds good, right? From the village of St. Anton in Fleres/Pflersch (10 minutes by car from Gudrun), hike comfortably for an hour to Malga Allriss/Allriss Alm (known for its many play facilities for children). After a cosy stop for refreshments and enjoying the sunshine on the large terrace, grab your toboggan and glide down the mountain on a gentle slope.
Insider tip: Malga Allriss/Allriss Alm is also a popular destination for moonlight tobogganing.
Ski tour to Pfeifer Huisele
This scenic ski tour leads through magical winter landscapes from Val di Fleres/Pflerschtal to Gudrun's Pfeifer Huisele in the Ladurns ski area. Here, you can stop for a bite to eat, taste South Tyrolean specialities, and enjoy the great view of the imposing Tribulaun. And at the end of your meal, there's homemade schnapps for everyone. The descent is via the ski slope or via the ascent route back to the starting point.
Winter hiking: Val di Fleres/Pflerschtal circuit
The circular trail through the beautiful, still largely untouched Val di Fleres/Pflerschtal starts at Ibsenplatz in Gossensass and leads along the bicycle path to Ladurns, past the adventure playground, and over the cross-country bridge to Residence Reisenschuh. The winter hike leads back to outer Pflersch, where you turn right at the railway crossing and continue along the riverside path until you reach your starting point again.
Cross-country skiing in Ridanna/Ridnaun
Attention cross-country skiing enthusiasts! Just half an hour away from Gudrun is Val Ridanna/Ridnauntal, a cross-country skiing paradise with a total of 25km of trails in both classic and skating styles. The cross-country trails of varying difficulty are suitable for beginners as well as experienced cross-country skiers. No wonder many international cross-country skiing and biathlon teams use the excellent cross-country skiing conditions here as their training camp every year.
Cosy stop: where the soul yodels!
South Tyroleans prefer to combine sport with pleasure. That's why the best part of a skiing holiday in Sterzing is not to be missed: a stop for a bite to eat. Gudrun's Alpine hut, Pfeifer Huisele, is waiting for you in the Ladurns ski area with knödel dumplings, Kaiserschmarrn, and more. It's also a popular destination for hikers in Sterzing. But, of course, you'll also find great huts in all the other skiing and hiking areas that serve South Tyrolean specialities of the highest quality.
This weekly programme beckons you in winter
Winter
3 ski areas (Ladurns, Monte Cavallo/Rosskopf, and Racines-Giovo/Ratschings-Jaufen), all of which can be reached in no time by car or ski bus (150m from Gudrun).
Once a week: guided snowshoe hikes organised by the tourist office. (We would be happy to reserve a place for you!)
Once a week: hut evening with fondue at Pfeifer Huisele
By request: ice curling
We'll tell you our insider tips for exploring around Gossensass. In addition, Gudrun will tell two new stories every month in our blog and give you tips for experiences in the region. Take a look!